Keeping the customers engaged over Amazon's e-commerce marketplace is not an easy task. Making available essential product details that a customer would need before making a purchasing decision requires a good product catalog. While making an online purchase, the customer looks for every detail to get exactly the type of product he wishes for. These details can include product description, features, price, weight, color, customer reviews, etc.
Creating a good product catalog should be made compulsory for any business that wants to expand in the market as it can have many advantages like – 
Fast launch times
Customer behavior analysis
Potential to reach a wider audience 
Effective customer service
Instant detection of catalog analysis
Creating a catalog
Before creating a product catalog you need to check these basic points, such as 
What is the purpose of your catalog?
What kind of responses do you wish to generate?
Do you want to encourage more sales, get more loyal customers, or post your brand image?
Who is your audience?
Firstly, you need to understand the type of customer your catalog is focusing on. By knowing who your specific audience is, you'll be better able to adjust the style of the catalog: its language, SEO, design, and even the location of items inside each product page. When your customer will find what they were looking for, they will make a purchase which will increase your conversion rate.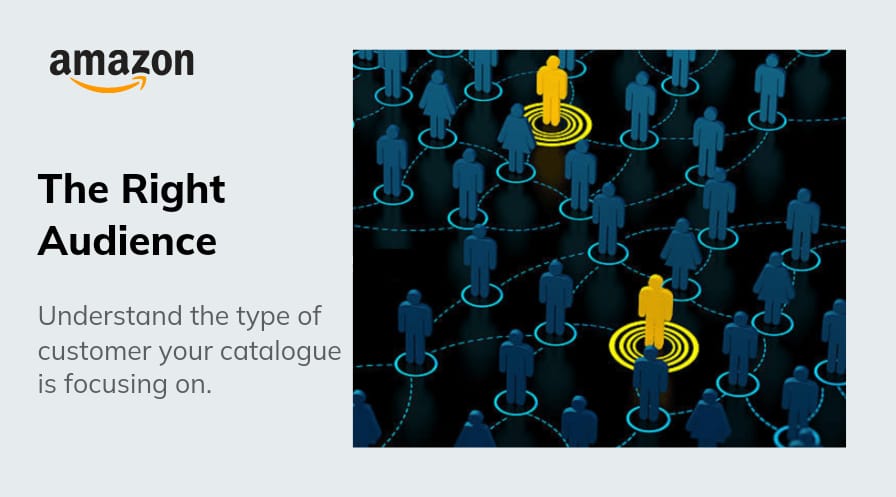 These days buyers are demanding and are ready to pay a high price for the quality product. Advanced technology enables everyone to compete with you in the marketplace, due to which it is able to secure the best deals. One of the best examples of a product catalog is the Amazon marketplace, where you can get a host of information in a single click. 
Let us see some ways in which we can help create a good product catalog for amazon –
When a customer wants to purchase something online, he searches for a particular product category and not the name of the shop. So giving a proper and right category to your product is a must.
 Once you have selected the category, you need to give your product a proper title that is precise and accurate to the nature of the product. Also, remember to keep it short as customers avoid reading long titles.
Focus on giving the customers the right information about the features and benefits of the product. Adding correct information makes your product different from others. One can use powerful keywords to increase ranking.
While uploading the product image keep in mind that the image is clear and not blurred. Customers cannot feel or touch the product so they will need to look at the image closely. As per Amazon's guidelines, you can use high – a quality image minimum of 1000*1000 pixels.
Different marketplaces have different guidelines for product photos. The catalog photos following those guidelines get more views and conversions.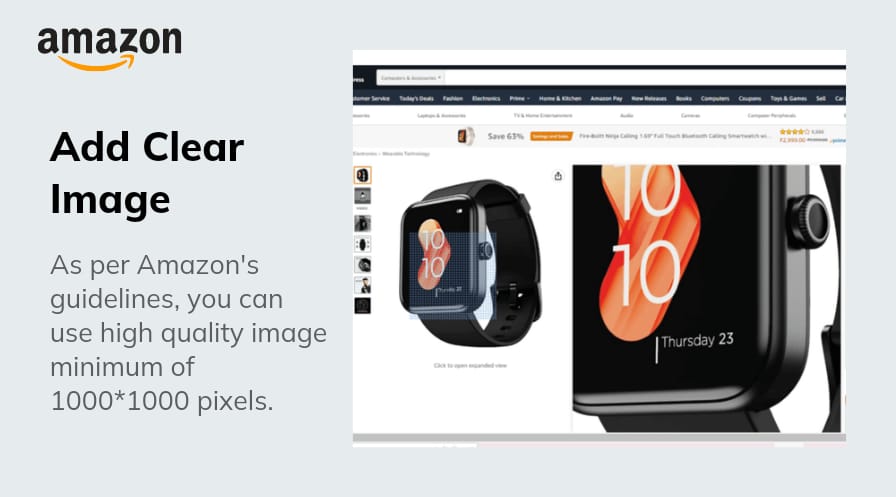 Purchasing decisions of customers highly depend on how you present your product and is up to the preference of the customers. The design and layout of the catalog should be such that it attracts customers.
Even social media platforms promote product photos on a clutter-free matching background. It would be an overstatement to say better product photos are the most important assets to growing your online sales.
Eg – Amazon requires white background product photos. Flipkart and Myntra require a grey or white background product photo or a contrasting background product photo.
Frequently asked questions 
Every product catalog should contain FAQs as it helps create a connection between the seller and the buyer. The customers can write and read the real reviews of the product. 
 Product catalog management
The work does not end once the catalog is made. To get good results, managing the catalog is also important as it gives higher utility to your business. Some points that can be taken care of are – 
A business has diverse store product catalogs – such as teams, geographies, campaigns, marketing themes, business units, industries, types, etc. Based on the unique needs of a business, content management systems can publish and store product documents for their users to access and use from where these documents are easily searchable.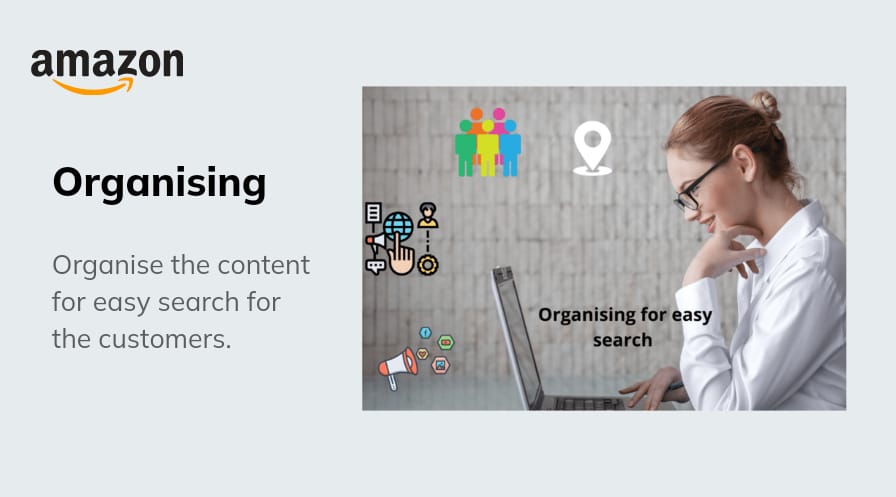 There can be times when changes are made to a certain product. So just timely adding these changes to the details of your products is a must.
Users must be able to gain insights from the usage of product information sheets which may include the number of views, downloads, re-shares, and time spent on each document. All of these will help product managers, marketers, and sales reps to efficiently analyze product performance and boost sales to deliver a personalized user experience.
All these become easy if you have the right app to work with. The Blend app helps you create and edit catalogs very easily. It helps create better product descriptions with just one click. Blend helps entrepreneurs grow sales and stand out online. It has over 500+ templates and various backdrops that you can use for your catalog. Blend can also help you create stunning product photos by editing, cropping, and resizing according to your needs. 
Try it here, https://blendnow.com/